About us
Welcome to Staffordshire Bull Terriers kennel "Brave Spirit".
I've been showing and breeding dogs for over 20 years, and my first Staffordshire Bull Terrier, red-haired boy Gray Vest Ambassador (Basia), appeared in our family in 2004 with the help of my friend, the owner of the famous multi breed kennel, Khokhlova Helena. But my first acquaintance with this wonderful and cheerful breed happened long before that, in sunny Spain, my heart was conquered by Staffy immediately and completely .
On the pages of my web-site you'll learn a lot of interesting stuff about our dogs and will be able to see how serious I am about my favourite work.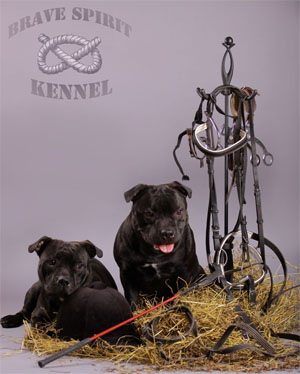 Let me elaborate on our champions and their offspring. Many of them are the champions in many countries, the winners of the various specialized exhibitions and Best in Show! I am very grateful to all the owners of the "Brave Spirit" kennel Staffies, for their work, and rejoice with them in every success. You can see the results of the use of the dogs, that belong to me, by other kennels breeders for breeding Staffordshire Bull Terriers on the page, offsprings.
In breeding, I always try to use the most up-scale dogs of the same type, living in Russia and abroad. In 2007 I brought the first import, black colour bitch Uchi Mata Daffodil Yellow (Yulka), from the famous kennel in Europe. Yulka exhibited very successfully. Brave Spirit Viking, the son of Yulka and a dog imported from Switzerland to Russia, had been left in the kennel for breeding . Brave Spirit Viking also successfully exhibited and has already his own pups as champions. Later, in 2011, I decided to replenish the kennel with fresh lines and a new colour. This was our import from England, Chelsea, daughter of World Champion of 2009, and an interesting red and white boy Frankie, from the successful British dog, who won the class on the KRAFT's in 2012 in Birmingham.
Also, I pay great attention to growing puppies in a kennel. At the time of going to owners all puppies are healthy, well grown, be sure vaccinated, have a corresponding puppy card, burn mark and accustomed to a professional dry feed.
Each puppy is provided with the necessary documents, ie RKF (Russian Canine Federation) documents for age, contract and veterinary certificate. All of our puppies are supervised by a breeder and go away with the recommendations for growing and gifts.